Low Maintenance Garden Solutions
As we all have busy lives the time and effort in maintaining a beautiful garden often become too overwhelming. In this blog we have come up with ideas on how to create a beautiful garden that isn't time-consuming to look after, is easy to maintain but still has that luxurious nature 'fresh air' feeling that we all seek.
Choosing Your Low-Maintenance Plants
Practical planting is key to a low maintenance garden solution. To do this you need to carefully consider which plants you are going to use as this will singinficantly cut down the time spent on maintaining your garden. For example if you are thinking about hiding an old wall with a climbing plant, we highly recommend you think about the time to prune it! Swapping this for a fixed screen is a bit more expensive but it the long term will require less maintenance and will still look fantastic.
Another thing you need to make sure of is that you are aware of how large the plants you have chosen actually grow so that you are not consistently cutting them back. This can become a tremendous task, especially with something like leylandii.
Plants can really make your garden come alive with colour. We recommend perennials as a low maintenance "bloom" solution. Perennials are plants that tend live for more than two years and mostly flower in spring, summer or autumn however their are a handful that bloom in winter. Many have attractive foilage too and die back in autumn and grow in spring. This means that they do all of the hard work! If you want green in your garden some perennials are evergreen and keep their leaves all year round.
Choosing your low-maintenance lawn 
We all know that real lawns are high-maintenance and need mowing quite often, particularly during the warmer months. There is no way of getting around this unless you decide to let the grass grow wild which will attract wildflowers, insects and birds. Alternatively, you can use a hardwearing seed that requires less maintenance. 
Your final option is artificial turf. Although not as environmentally friendly as real turf, it does require less maintenance.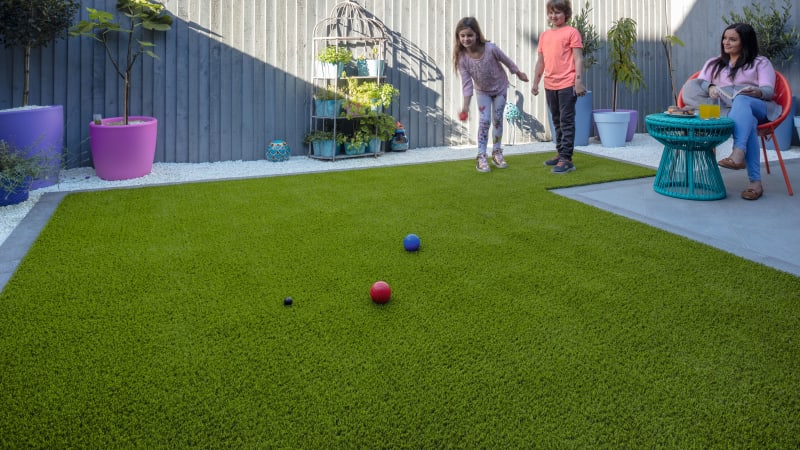 Low Maintenance Paving Solutions
If you are thinking about including a patio area in your garden then we recommend carefully looking at your paving flag options. As a low maintenance solution we recommend a product that is tough, moss and algae resistent but that will also complement your overall garden design. Here are just a few low maintenance garden paving options:
Marshalls Symphony Urban Paving
Marshalls Arrento Porcelain Paving
UK Landscaping Range - Pearl River Grey Porcelain
UK Landscaping Range - Modoak Porcelain